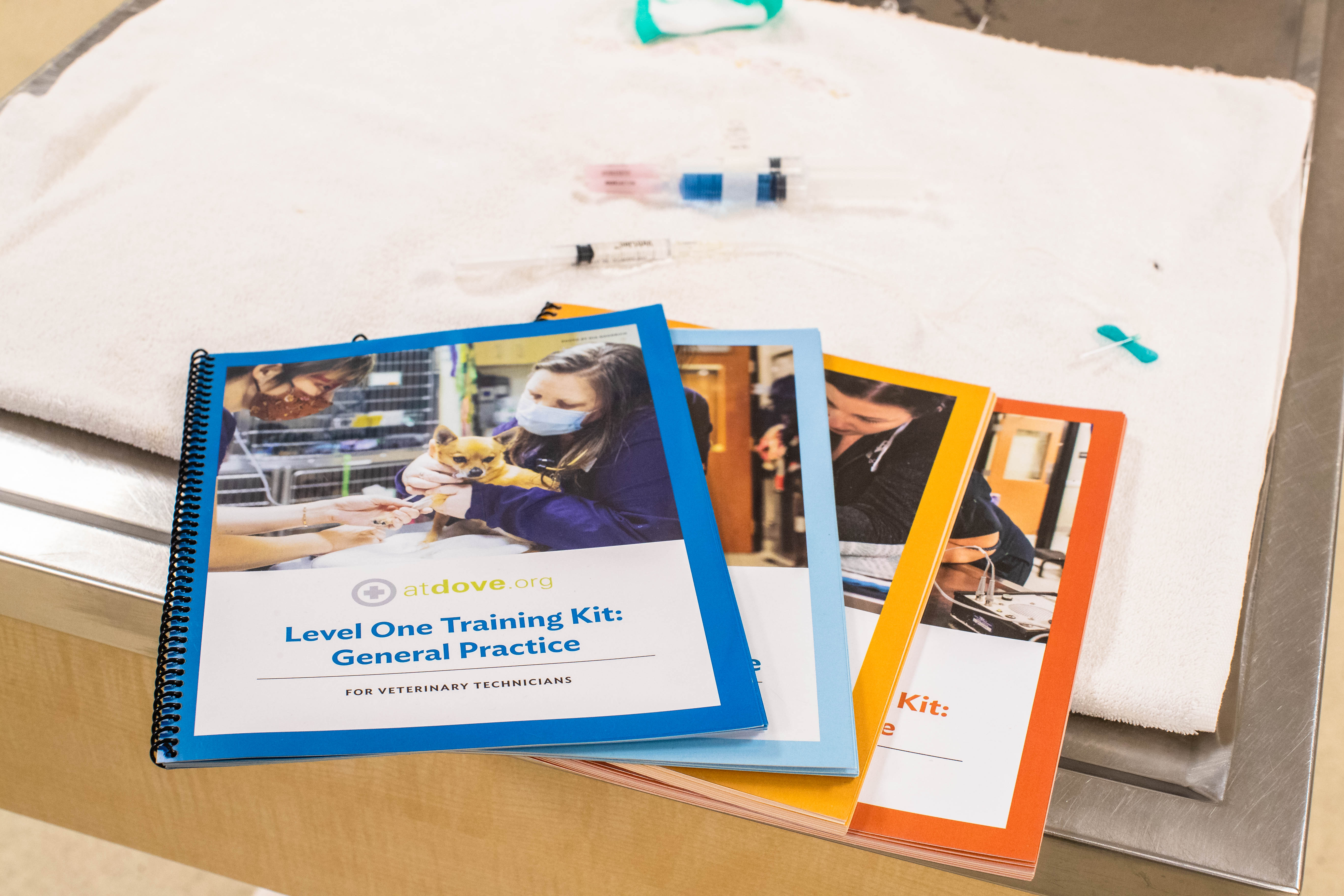 The "Why"
DoveLewis is a 24/7 emergency animal hospital in Portland Oregon, and we face many of the same challenges that clinics across the country face. One challenge is creating a training program that not only supports technicians in their first two weeks but long after they have completed their onboarding process. Keeping this in mind led us to create the Technician Training Kits, with tiered levels that support technicians based on their experience in the field.
We created and use the Technician Training Kits at our own hospital for a few reasons:
The kit is designed with checklists and sign-offs to standardize onboarding and training. This is important so that from day one, technicians know what is expected and can learn how procedures are performed at our specific hospital.

Each kit can be personalized and keep technicians excited about the work that they do. Engagement is an important factor and can elevate an individual's contribution to the team. We find that a fully utilized technician can have an enormous impact on the therapies provided to the animals entrusted to our care.

The technician training kit can identify areas where our technician team could use additional support, education, or training. If we notice that multiple technicians are confused about a protocol, we can clearly identify the policy. If we hear that a skill in the checklist is too difficult, we can offer training to help make it achievable. The kits can provide multiple benefits to any practice depending on how they are utilized and integrated into already existing global practices.
The "How"
Our technician trainers hand out the Level One Technician Training Kit to all new technicians during their first week of employment. New-hire technicians are asked to complete the first level within 6 months of their hire date. Once the technician completes Level One by filling out the skills checklist and passing the exam, they become a Level One technician.
Upon completion of Level One, technicians can receive and begin work on the Level Two Technician Training Kit. The length of time it takes to complete Level Two is highly dependent on a technician's prior work experiences and the types of cases and patient volume that each individual practice sees. We encourage prioritizing a clear understanding of the information in the kits and gauge the effectiveness of this by utilizing the examination and clinical application sections. It's important to support an individual's educational journey and discourage the mentality that leveling up is a race to the finish line.
See an example of Kelsey Reinauer, CVT working through a Level Two skill below.
The "How Do I Get My Team Excited and Why It's Important"
Implementing anything new can be challenging in a busy veterinary hospital. Explaining to your team that there are long-term benefits when there are short-term issues directly in front of them can be difficult. Here are some tips to make rolling out the training kits a success:
Be excited and accessible to your team. It's important that trainers or managers are available to answer questions and offer encouragement. If a technician isn't supported and encouraged throughout their journey, they will struggle to remain engaged and receive the full benefit of a structured training program. Offer "office hours", identify a process for grading exams and giving feedback, or select other team members to help support the implementation are all ways to encourage long-term use of the kits.

Customize the kits to meet your practice's specifics because not all clinics are the same. Managers and trainers should review the kits and cross out skills that aren't relevant in the practice. You can also add lines for skills that may be missing in the "Add Additional Skills Here" section.

Consider hosting a roll-out party. If you have a large team and want to hype up this new program, consider having an introduction meeting and social event. Verbally discussing instructions (ideally in a fun setting with snacks or treats) that identify a practice's goals and expectations for technician training can go a long way. Pair this information session with a fun team outing and you will certainly be starting off on the right foot.
We hope that the Technician Training Kits can become a useful tool at your hospital. To learn more about the Technician Training Kits or purchase, click here.
At DoveLewis, we believe that learning should exist throughout the career of a veterinary technician. The Technician Training Kits are a tool to help promote learning and teamwork, but they are not a replacement for educational institutions and certified veterinary technician programs.